Outdoor thrills and cultural wows in untamed Cuba
Wild Cuba adventure tour
$ 2099 each in double room
Single room $ 200 extra
Grand Aston, Private home
Explore bewitching Viñales Valley
Stay in and visit historic Old Havana
Boat trip to captivating Cayo Levisa
Horseback riding in tropical nature
Snorkeling, plus optional scuba dives
Tour Cuba's majestic Capitol building
Cruise around in 1950s convertibles
Tobacco plantation and organic farm
Zipline in the land of the mogotes
Bike around Havana neighborhoods
Foodies delight at best restaurants
Downtime to wander on your own
Wild Cuba adventure tour overview
A special place on earth so exquisite it takes your breath away. Otherworldly. A stunning tropical paradise full of mythical landscapes and beguiling, warm waters. An enchanted musical secret island populated by kind effusive people who nourish your soul. So American, yet so exotic.
Nearly all-inclusive, this incredible Cuba encounter is for solo travelers, and families, and friends of all ages. We promise your escapades in Cuba from its capital to the countryside and back will satisfy generational whims.
During your Cuban holiday, you'll experience the humble lives of rural Cubans, be a witness to their unspoiled environment, and the recipient of amazing good times.
This tour is for people who love the outdoors and desire to engage with vivacious Cubans while imbibing in their vibrant undulating culture.
Together with a small group of like-minded companions, you'll enjoy tasty Cuban cuisine (most meals included). You'll discover Havana in 1950s classic American convertibles, and journey to magical Guanahacabibes mountains sheltering Viñales Village where Cuba's famed tobacco plants flourish and visit some of the most famous UNESCO World Heritage sites in our Americas.
You'll traverse a Caribbean metropolis and small hamlets with miles of pristine hypnotic nature in between, all the time staying in comfortable, safe, clean accommodations.
You'll walk, swim, hike, bike, sail, and snorkel across rivers, seas, forests, and parks. Level of exertion is flexible. This trip gets five-star rankings for healthy fun outdoorsy escapes.
Wild Cuba adventure tour map
Cuban provinces you'll visit
Cuba is big. It's larger than Connecticut, Massachusetts, New Hampshire, Rhode Island and Vermont combined.
Day 1 • Saturday • Say hello to adventurous Cuba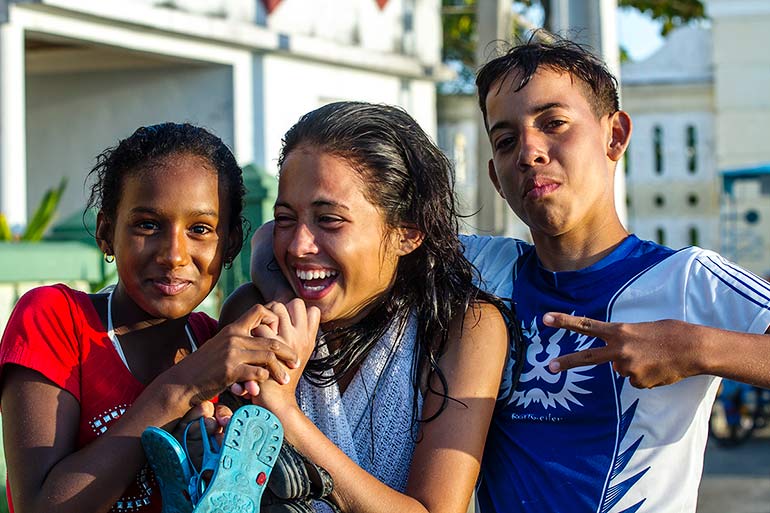 Arrive at Havana's

José Martí International

airport (HAV).
Enroute to your boutique accommodations savor the sights and sounds of one of the oldest and most stunning cities in the New World.
At your lodging, enjoy a welcome cocktail, freshen up, and get comfortable.
Group arrival dinner with your guide and tourmates.
Evening entertainment options: Groove to live jazz, relax in a lounge, or revel in a dicey dance show – all within walking distance of your lodging.
Day 2 • Sunday • Romancing Old Havana, old cars + castles
Greet the day with tasty breakfast at your boutique accommodations.

Time warp

. We'll cruise the ancient ruins of the iconic

El Morro Castle

and adjacent

Cabaña Fortress

in

1950s classic American convertibles

. The fortresses are the oldest and most expansive Spanish colonial installations in Latin America. There are more functional US vintage autos in Cuba than in the United States.
We'll visit the recently renovated

Capitolio de La Habana

, home to Cuba's National Assembly. The imposing monument is reminiscent of the US Capitol but taller and less austere; chocked full of grand statuary, breathtaking ornamental details, and jaw-dropping art. The building supports the sixth-largest dome in the world – clad in 24 karat gold plated panels. You will learn all about this magnificent structure from staff who work at the Capitolio.

Guided walking tour of Old Havana

. "In terms of beauty, only Venice and Paris surpassed Havana," penned Ernest Hemingway. He was alluding to Havana's incredible architecture, arts, and, of course, the joie de vivre the city's engaging people. Old Havana's four ancient plazas are full of color and personality, with a mix of palatial buildings, monuments, museums, galleries, churches, lively entertainment, restaurants, and bars. Together, the four plazas of Old Havana contain the most extensive collection of Spanish colonial-era architecture in Latin America. A UNESCO World Heritage Site, restoration and care of Old Havana's wonders is the responsibility the Office of the Historian of Havana – Cuba Explorer's island sponsor. We'll visit

Cathedral Square

, the

Square of Arms

,

San Francisco Square

, and

Plaza Vieja

.
Lunch at

El Rum Rum de la Havana

private restaurant. In Cuba, eating establishments are full of rum (the vital ingredient for mojitos) and 'rum rum' (a Cuban term for gossip). Gossip we must, because El Rum Rum is the talk of Habana Vieja paying homage to seafood, Spanish gastronomy, cigars and throat-warming shots of the hard stuff.
Guided tour of the

Museum of the Revolution

, former opulent palace of Cuban dictator Fulgencio Batista. Learn the story of Cuba from colonial times to the present. Exhibits include the yacht Granma in which Fidel Castro and 81 rebel combatants returned to Cuba from exile in México in 1956 to launch the Revolution. You'll see relics from the

Bay of Pigs Invasion

and the

Cuban Missile Crisis

. It tells a story not only of Cuba but for much of Latin America.
Return to your boutique accommodations to freshen up.

Group welcome dinner

at the private restaurant

Mojito Mojito

. Ideally situated near Plaza Vieja, it's friendly atmosphere, fantastic food, and terrific mojitos gives it a top ranking on TripAdvisor. International guests and Cubans love this place.
Day 3 • Monday • Viñales Valley, land of the gods
Greet the day with tasty breakfast at your boutique accommodations.
We're off to voluptuous

Viñales Valley

, an idyllic mountaintop hamlet in the heart of Cuba's celebrated tobacco-growing region. The village sits in the center of an expansive valley surrounded by stunning karst hill formations known locally as mogotes.

Mogotes

are irregularly shaped steep-sided hills that can rise a thousand feet, and have bases ranging from just a few hundred yards in diameter to more than a mile in width. In commendation, UNESCO lists exalted Viñales Valley's natural wonders as a

World Heritage Site

.
We'll hike the fields of

Finca Agroecologica El Paraiso

organic farm and learn how this family reclaimed a rocky mountainside to grow vegetables, herbs, and exotic fruit trees.
Lunch at an organic farm

Finca Agroecologica El Paraiso

. All of its menu selections are cooked up from organic farm-fresh local ingredients. "So incredibly delicious," say many hundreds of TripAdvisor diners.
Visit a privately-owned

small tobacco plantation

that produces the rarified leaves for Cuban's world-renowned cigars. We'll meet the owners – the third generation of women – who operate the farm using horses and oxen. They'll give a personal demonstration on how to craft hand-rolled

Habano cigars

.

Boat ride through

the aquatic veins of

Cueva del Indio

[Indian cave]. Float on the underground river that runs through a vast limestone cavern. You'll get bat's eye view of mammoth-sized stalactites and stalagmites lining the interior of this mini-mountain karst formation, known as a mogote in Cuba. These camel-hump formations date back to the Upper Cretaceous era.
Check-in to your boutique accommodations in Viñales.
Time to relax and freshen up for an entertaining evening.
Dinner tonight at

El Campesino Yuri y Nino

private restaurant and guest house. Another occasion to savor the best of centuries-old Cuban cuisine comprised of indigenous ingredients.
How about taking in some Viñales nightlife? Your guide can suggest all the hot spots.
Day 4 • Tuesday • Cayo Levisa beach, tropical splendor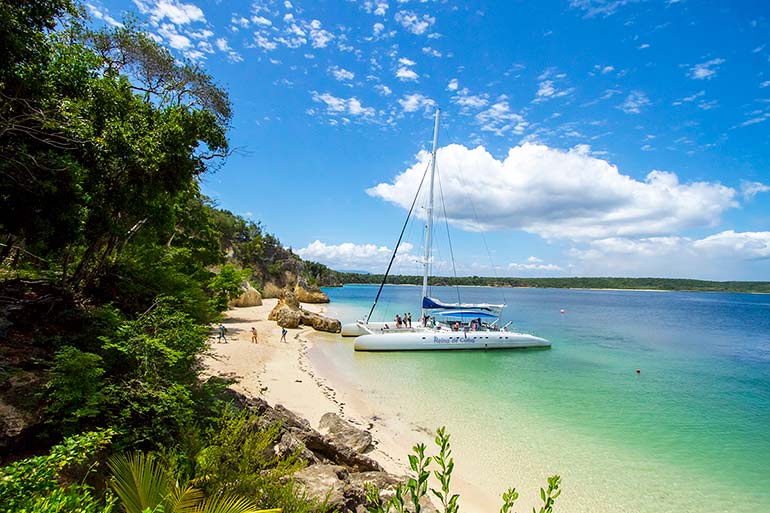 Greet the day with tasty breakfast at your boutique accommodations.

Cayo Levisa

. Early morning escape to a tiny island rimmed with coconut trees and mangroves, home to

endemic bird species

. Sink your feet into the island's smooth white sands, or venture into the warm waters to explore the pristine coral reefs. Enjoy snorkeling (included), or optional scuba diving.

Essential

: You must have a scuba certificate for this activity. Along Cayo Levisa's two-and-a-half miles of beach, there are

21 diving spots

. In the shallows, you'll see sponges, rare black coral, and myriad species of tropical fish. The remains of Spanish galleons shipwrecked during the 17th and 18th centuries lie beyond the depths of the shore.
You'll delight over a traditional criollo lunch during your captivating Cayo Levisa excursion.
Return to your boutique accommodations in Viñales, time to freshen up for the evening.
Dinner not included in tour cost – an occasion to sample the stellar private eateries and sample the variety of Cuba's distinctive cuisines. We'll provide suggestions for restaurants most popular with Cubans and our travelers.
Think about taking in some of Viñales local nightlife. Your guide can suggest venues.
Day 5 • Wednesday • Horseback riding and zipline thrills
Greet the day with tasty breakfast at your boutique accommodations.
Great fun required in few words: Time for

horseback riding

through the trails and paths of Viñales Valley.

Zipline perk!

What more can we say about the exhilarating possibility of racing across a magical tropical valley on a narrow cable at many yards per second? Hold on to your britches.
Lunch at

Balcón del Valle private restaurant

. We chose this joint because it is a top choice of TripAdvisor fanatics, plus its panoramic view of UNESCO's world natural global wonders inventory. You can expect tasty home cooking, family-style service, and breathtaking selfie views.
Return to your boutique accommodations in heavenly Havana.
Check-in, relax, and freshen up for the evening.
Dinner not included in tour cost. It's an occasion to sample Havana's stellar private eateries and sample the variety of the island's distinctive cuisines. We'll provide suggestions for restaurants most popular with Cubans and our travelers.
Don't miss out on Havana's nightlife. Your guide can suggest all the hot spots.
Day 6 • Thursday • Biking, connecting with Cubans, great food
Greet the day with tasty breakfast at your boutique accommodations.

Ecofriendly and refreshing

. Experience hidden spots and gems as you cruise through streets less frequented. Experience the sights, bouquets, and sounds of Cuban life on a relaxing, guided bike ride. Light clothing, long sleeves, sunscreen, sunglasses, and a hat recommended.
Lunch at

Iván Chef Justo

private paladar. Occupying a 1766 colonial mansion, this eatery is near the Museum of the Revolution in Old Havana. Diners describe the food as world-class. All the ingredients are organic and sourced each morning at farmers markets. Its Mediterranean atmosphere is supplemented by live Cuban classical music.
The afternoon is yours to wander the city and get to know Cubans.
Farewell group dinner at the private restaurant

Los Naranjos

. In the heart of Vedado in an expansive 1930s mansion, its Chef, Ernesto, specializes in fusion style dishes combining Cuban, Italian and Spanish themes. Los Naranjos' ambiance is fun and light, its food delectable, authentic and fresh, and staff upbeat and attentive. It's a favorite among TripAdvisor diners.
Evening entertainment suggestions:

Fábrica de Arte

, Zorra y Cuervo, Tropicana, Buena Vista, or salsa lessons. Your guide helps with all reservations and arrangements.
Day 7 • Friday • Farewell Cuba. For now.
Greet the day with tasty breakfast at your boutique accommodations.
Transfer to

José Martí International

airport (HAV) for flights home.
We'll miss you and hope you will return soon. In Cuba, we say, "A true friend remembers the song in your heart when you have forgotten the lyrics."

Want to extend your Cuba stay

? We'll gladly assist. Just ask us!
While in Cuba,
our attentive island team ensures your trip is magical and memorable. Activities subject to change based on constantly evolving conditions in Cuba.
Reserve your tour now.
Take 48 hours to shop and compare.
Included in Cuba tour package cost
Cuban Tourist Visa and delivery, up to a $100 value
Certificate of Legal Cuba Travel ensuring compliance with US regulations
Small group size – ten guests or fewer
Knowledgeable, fun, attentive Cuban guides from arrival to departure
Flexible tour payment options, you decide payment schedule
Quality accommodations as listed in this itinerary
Air-conditioned transport, professional chauffeur, and bottled water daily
Airport-accommodation transfers on tour start and end days
All activities and fees listed unless noted as optional or suggested
Emergency telephone and internet access from Cuba to America
Cash advances for participants caught short of funds in Cuba
Ongoing support from our US and Cuban staff before, during and after travel
Participants become Club Cubano alumni and receive future tour discounts
Tasty meals included each tour day